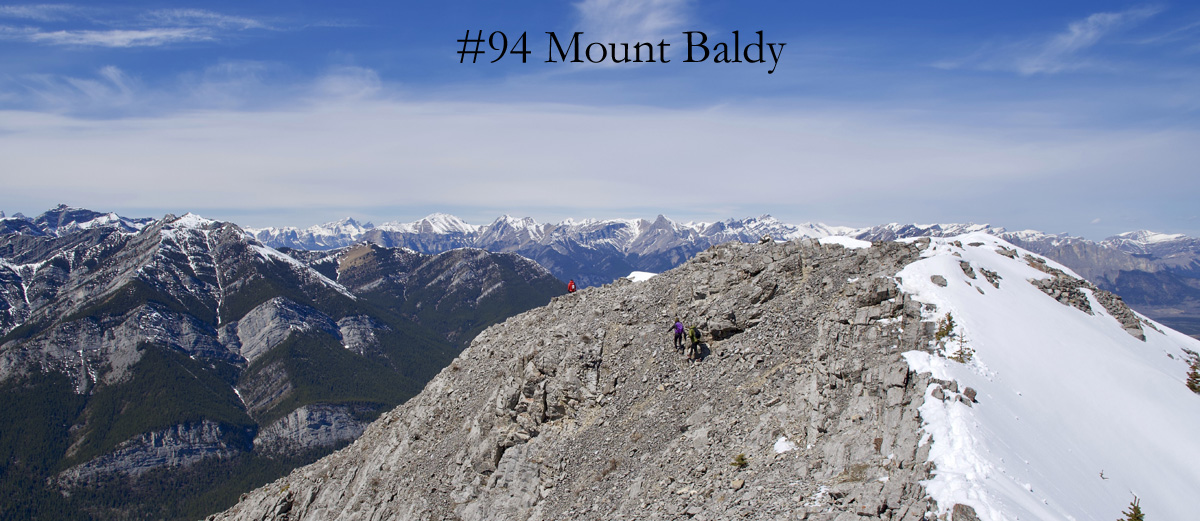 Location - Kananaskis Country, Alberta

Distance - 8 km

Elevation gain - 780 m

Trailhead elevation - 1,415 m

Summit elevation - 2,195 m

Time - 6 hours

Difficulty - difficult hike with a lot of moderate scrambling
Highlights
This is the North Peak tallest one with summit log, beside West (2,125 m) and South (2,145 m) Peaks on Mount Baldy. The distance is only 4 km one way, but it is very steep especially at the summit. Some sections are quite exposed and can be slippery, so caution is necessary. The trail is excellent for early hiking season because it is one of the first trails without snow in this area.
Trailhead
Park at the Mount Baldy parking lot on the east side of the Kananaskis Trail Highway where Kananaskis River entering in to Barrier Lake. If you pass wish well, you have miss trailhead.
Hiking
Mount Baldy hike is a one way trail or can be a loop that features beautiful views all the way. Start the trail on the left side of creek and keep going up on well-established trail through the forest. Going up want be easy because every step gaining elevation. At about half way there is a choice of going straight up and climb steep path or go right to scramble also steep path which one looks easier. After 250 m the paths may connect at the rock bench with gorgeous views as well as a view of Mount Baldy summit what is objective of this hike. This is excellent spot for refreshment. From here you will continue to work your way up to the saddle. Ones there, you can see what to expect going to the summit. There is exposed scrambling followed by a fairly steep grade with many like trails to the top. The lose rock is common and if trail is wet with snow, could be very dangerous if you are not careful. Once you reach the summit, enjoy the views, sign in summit log and then take short traverse of the ridge. If wind allow spend some time up there and prepare yourself for work your way back down what is not going to be easy. If conditions allow it is possible to traverse a ridges to another shorter Baldy Peaks. We did just short ridge walk knowing we have to save energy for the way back. That was so right, we were so tired that we have to stop every couples hundreds meters. The worst thing was sitting on the grass where we found or better they found as a few tics.
Perks of the Trail